Bunker, a good friend of mine, was asked to photograph Mobile Mondays in Amsterdam. He was kind enough to put me on the guest list and even offered a taxi to Amsterdam and back. Would be stupid not to go, would it?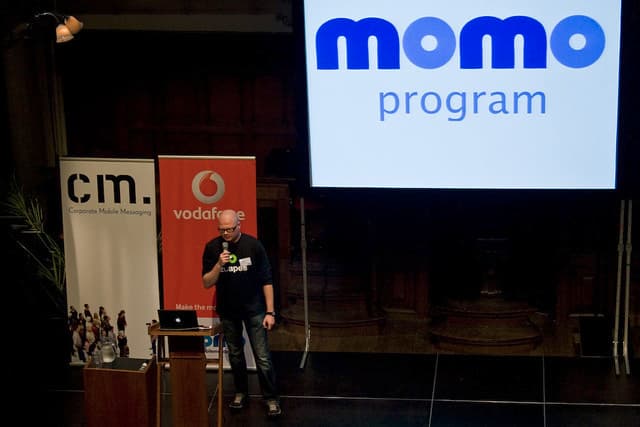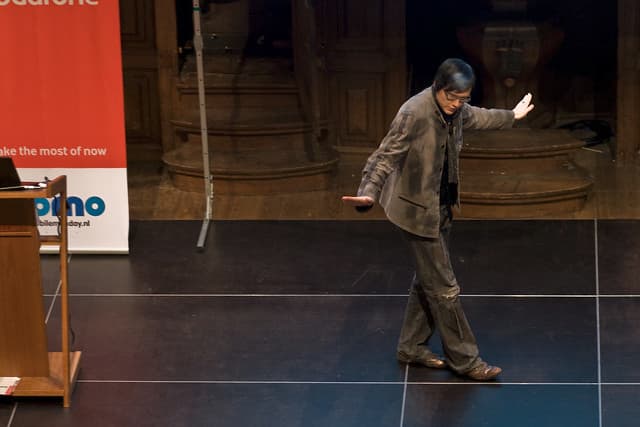 Teemu Arina
Teemu Arina took another approach. He went for 3 pecha kucha presentations in a row: 'Changeable in appearance, mood, or purpose', 'Undergoing a shift in status'and 'Moving or changing quickly from one state or condition to another'. All three visually stunning presentations in his own eccentric style. Loved it! This guy knows how to entertain his public. I'll copy Dorien here and link to Teemu's own post about his presentation.
Bruce Sterling
Closing speaker was Bruce Sterling, an American science fiction author, I had never heard of. His talk sounded very religious standing on the pulpit and speaking about the 'Internet of Things'. He explained that people close to the volcano will experience the greatest impact: your grandmother's life probably won't be affected with the introduction of the iPhone when she still uses a landline but yours will. In 10 years time you can still use a hammer but your iPhone will be useless. A nice point - made me think - after seeing the BlackBerry Storm vs. the G1 fight on stage earlier. In Sterling's words:
"I want you to think real hard about the values you are going to save and stop worrying about the plastic."
Conclusion
Overall it was an interesting day on a beautiful location, almost feeling surreal driving back to Belgium in the thick fog. The best part, however, were the discussions with Dorien, Koen and Bunker! My photos are available on Flickr.
This post is open source. Did you spot a mistake? Ideas for improvements? Contribute to this post via Github. Thank you!