Garmin Bike GPS Without Account
Uploading tracks and downloading activities without Garmin account.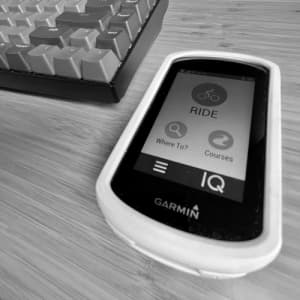 The standard way to add tracks to a Garmin bike GPS is through Garmin Connect, a website with a mobile app. This requires an online account and a phone with Bluetooth to work. A family member with a Garmin Edge Explore was confused by this, and I didn't feel comfortable uploading their GPS data to Garmin.
A simpler solution exists. You don't need an online account or a phone to upload routes or download activities from the device. It's easier and fully local, even though you lose some features like phone notifications on the device.
Finding a Route
You need a route that you want to ride. Route descriptions come as GPX, TCX or FIT files (there are others, but these are the ones I tried). Routes can be downloaded from different websites (such as RouteYou or Komoot), or they can be created (via OpenRouteService, BRouter, or Fietsnet). The result is a GPX (or sometimes TCX) file with the description of the route.
Riding a Route
Connect the Garmin to your computer via USB. It appears as a USB drive. Copy the route file to the 'Garmin/NewFiles' folder and eject the device from the computer. When ejected, a 'Loading courses and locations' message is shown. From the main menu on the Garmin, choose 'Courses → Saved Courses' and open the uploaded route. Tap 'Ride' and enjoy the trip!
Activities
You can download your trips when you are done. Connect the Garmin again and open the 'Garmin/Activities' folder, where each of your trips is saved as a FIT file. Use an application like GPXSee to look at the trip.
Useful Tools
GPS Visualizer is an online tool for exploring geographic data: generate maps, convert between formats, etc.
FIT Route Converter converts a GPX file into a FIT file in the browser.